SLOW MADE IN JAPAN

Conscious, Sustainable and Circular Fashion in Mind
Established in 1950 as a sewing house, our garments have been meticulously designed and crafted locally in Japan using fine natural materials, most preferably high quality linen.
We are a small environmentally conscious brand. Our brand philosophy focuses on conscious, sustainable and circular fashion based on our MONODUKURI, a Japanese cultural term describing the traditional approach to produce quality products with attentive and precise details with the experience and expertise of craftsmen.

SLOW MADE means our brand-defined MONODUKURI, our ideal high standard to take the slower, more mindful approach using the natural materials and environmentally friendly processes for our production without compromise. Our goal is to create high quality timeless fashion pieces through our MONODUKURI and to provide confidence to our consumers in acquiring a sustainable product.

We have strong long-term relationships with local partner factories and our MONODUKURI is made possible with great support from valued experienced artisans and textile experts there who fundamentally understand the ethos of our brand.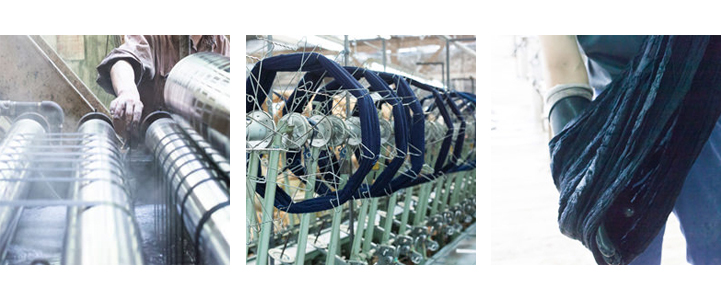 We are advancing toward reducing the harmful impact on the environment from our production process. We make as much efforts as possible to sustainable circular fashion at our own factories and partner factories in Japan with the notion of eco friendliness; energy efficiency, non-toxicity and recyclability in mind.
As part of our dedication to sustainable circular fashion, all of our original garments are crafted from nearly 100% natural materials and we strive to minimize the excess in stock by making products in limited quantity. We offer mend and repair service by our repair experts for the garments with nest Robe/CONFECT labels on to extend your clothing longevity. We are happy to fix a few years old garments as long as we can find the materials to do so. This is also part of our dedication to sustainable fashion.
Another part of our dedication to sustainable circular fashion and committment to reduce waste we produce is that we have developed our original upcycled fabric which is made of our pure linen fabric waste and leftover from our garment production. We make the recycled linen yarns out of the 100% linen fabric waste and weave with about 50% of the recycled linen yarns and about 50% of organic virgin cotton yarns to create our original upcycled linen cotton fabric, then we produce garments in this special fabric. When we have waste of blended fabric, we produce upcycled hangers for the garments out of the fabric waste.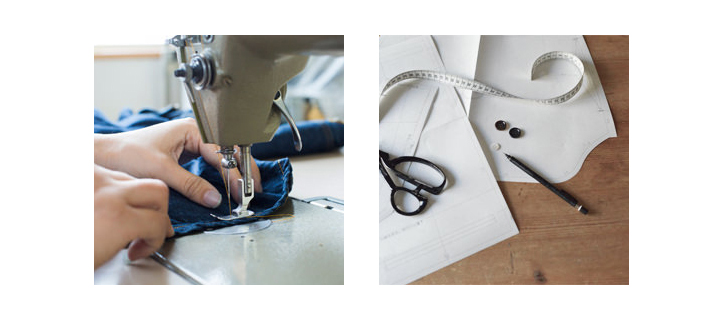 We also run our core sewing factory on alternative energy, self-generated solar power and all lighting there are energy saving LED. We use the energy efficient boilers at our dye house where big amounts of hot water is used in dyeing process to significantly reduce energy consumption.

We have also switched to the most advanced Spain made washing/bleaching machine with eco certified e-Flow tehnology for finishing effects using ozone to save water up to 95%, energy consumption up to 40% and harmful chemicals up to 90% resulting in producing less industrial waste water and CO2. We are more eco-friendly using our original recycled reusable resin stones instead of pumice stones in our stone washing not to create the problem of environmental disposition of waste of the grit produced by the stones.

All of our retail stores are built using mainly natural biodegradable materials such as wood, stones and diatom soil and use LED for lighting. We have no disposable bags for customers at our stores. As environmentally conscious product selections we have several kinds of paper eco-bags and reusable canvas eco-bags available for our customers. We'd like them either to bring their own bags or to purchase one of our eco bags for their shopping in order to be a part to create a sustainable society.

Forest Stewardship Council® known as FSC® certified recycled paper is used for our paper eco-bags and our reusable canvas eco-bags are certified with the Eco Mark standard. The Eco Mark is an environmental label that is attached only to products that have passed the strict standards with a low environmental impact throughout the entire life cycle from "production" to "disposal" and have been certified through a fair examination by the Japan Environment Association which has signed a Mutual Recognition Agreement (MRA) with overseas type I environmental labeling organizations.

Our online stores use the biodegradable biomass plastic bags made of plant-derived materials for the online purchase to be put in.
What we do toward the sustainable circular fashion may still be insufficient however, we can definitely make a change if we continue staying environmentally concious. We will keep on striving for lowest possible environmental impact in our productions and in our operations.